Social and Development Impact
SFMC's investment strategy is focused on generating economic returns while creating development impact that will benefit Palestinian society and economy as a whole, and support the emergence of a self-sustaining Palestinian state.
Development impact is achieved using a hands-on, value creation approach that includes bringing in top quality management; implementing systematic operational, governance and monitoring procedures; and identifying vertical and horizontal routes for expansion to allow portfolio companies to expand their market share and achieve higher profitability.
To date, SFMC investments have maintained and created over 2,000 employment opportunities across its portfolio, in addition to hundreds of indirect jobs.
Specific areas of development impact are as follows:
Economic Development Impact: Revitalizing the Palestinian economy by investing in companies that will have strong social and development impact. Most Palestinian companies are defined as SMEs, which provide the majority of the private sector labor force. SFMC's investments play an integral role in the employment of women, youth and low-income families in the inclusion of the Palestinian workforce.

Environmental, Social and Governance (ESG) Impact: Creating social and environmental awareness in portfolio companies and enhancing corporate governance.

Capacity Building: Enhancing business environment and promoting professional standards by institutionalizing administrative, financial and operational procedures. SFMC provides technical assistance to the portfolio companies in order to enhance management capacity, improve market focus and presence, strengthen governance and manage growth.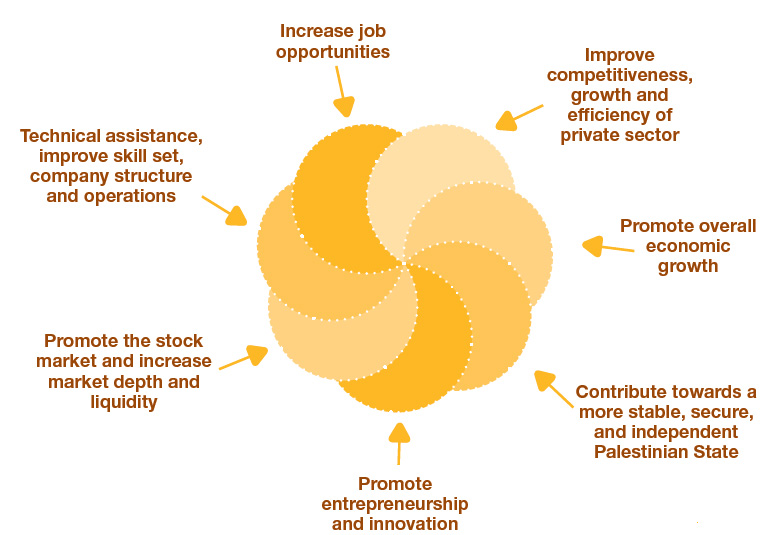 Top